Welcoming a new member of your family into the world is a great change for anybody. For many, it brings about an amazing change. However, a mother goes through substantial changes with the child-bearing experience and childbirth. These changes can be considered positive or negative. One of the most challenging situations that can arise for a new mother after giving birth is postpartum depression.
A condition that impacts nearly one out of every seven mothers in the time following childbirth, it can become worrisome for new mothers and the people around them. As a nurse, you will find yourself patients dealing with various physical and mental health concerns. Considering how common it is, you may be involved with a patient suffering from postpartum depression. Understanding as much as possible about what it is, how to see the symptoms, and how to treat postpartum depression is critical to your role as a nurse.
Today's post will tell you about this prevalent form of depression impacting many new mothers and how you can play a role in helping them ease into a happier postpartum life.
What is Postpartum Depression?
A female can undergo substantial changes throughout pregnancy, including physical, hormonal, psychological, and emotional changes. Postpartum depression, or PPD, is a form of depression that child-bearing people can experience after childbirth or postpartum. Also called perinatal depression, PPD occurs after a female gives birth.
PPD can be described as a sensation of feeling extremely sad, emotionless, and empty. Perinatal depression can result in severe mood swings, an overall feeling of hopelessness, and exhaustion for an extended period postpartum. Many people tend to take PPD lightly when it is a serious condition that can have severe consequences if not handled with care.
Fortunately, there are ways to identify when someone is suffering from perinatal depression and various treatments to help them overcome it.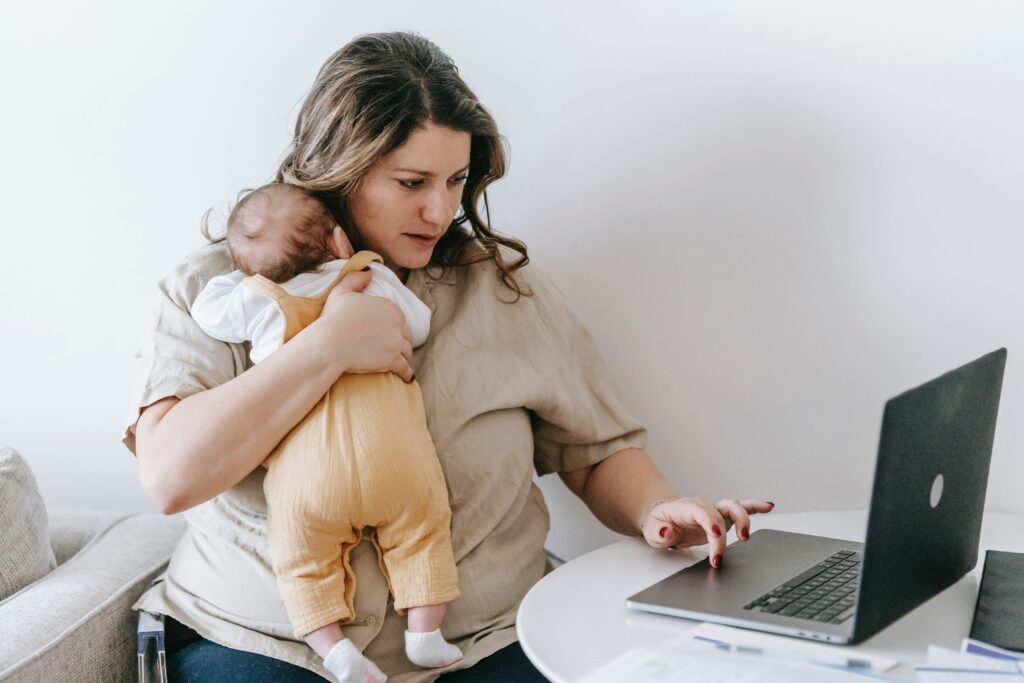 What are the Most Common Postpartum Depression Symptoms?
It is common for many people to experience sadness, moodiness, and fatigue for a few days after childbirth. That condition is informally called baby blues. Postpartum depression comes with several symptoms. While baby blues might entail similar symptoms, it is not the same as perinatal depression. PPD can last for much longer than a few days post-birth. The symptoms of the condition can be far more severe. It can affect a person's quality of life and ability to function normally.
No two people with PPD will have the same symptoms. The disorder's symptoms can vary drastically from one person to the next and even change for the same person every day. The symptoms of postpartum depression typically begin developing within one to three weeks postpartum. However, they can develop later as well.
Here are some of the common symptoms of postpartum depression you should keep an eye out for:
A feeling of being easily overwhelmed
Experiencing intrusive thoughts about self-harm or harming the child
Crying frequently or feeling sad a lot of the time
Experiencing a severe lack of motivation and energy
Getting too little or too much sleep
Feeling more anxious than usual or developing anxiety
Not feeling interested in anything to do with the baby
A feeling that you are a bad parent, worthless, or inexplicably guilty
Experiencing chronic issues like stomach problems and headaches
It is important to understand that a person with PPD goes through substantial physiological changes. Even if there is no reason to believe they are bad parents, they can legitimately feel that way. Anybody feeling these symptoms must consult with healthcare professionals to identify and seek adequate treatment.
Understanding Severe PPD and Postpartum Psychosis
Failing to seek the right help for perinatal depression can have dire consequences. Left untreated, the PPD can become worse with time. Severe PPD is when a person with the disorder starts feeling thoughts about self-harm, harming the baby, hurting others, or suicide. It is essential to avoid letting things get to this point. If they do, it is critical to seek medical intervention immediately.
When PPD goes too far without treatment, it can result in postpartum psychosis. Postpartum psychosis is not very common. One out of 1,000 females can experience postpartum psychosis. This extreme disorder can develop within a few weeks postpartum. However, there have been cases where people develop postpartum psychosis even six months after childbirth.
Some of the earliest symptoms of this extreme form of PPD include:
Irritability
Insomnia
Hallucinations
Delusions
Restlessness
Postpartum psychosis should be treated like an emergency because it increases the realistic possibility of self-harm or harming the child — be it deliberate or accidental.
What is the Treatment for Postpartum Depression?
If a person is experiencing perinatal depression, they need to consult healthcare professionals to begin treatment as early as possible. Depending on the combination and severity of the PPD symptoms a person is experiencing, a doctor may prescribe several treatment courses in the right combination to deliver the most effective solution.
Treating postpartum depression can involve:
Medication: A doctor may prescribe a few medications, including atypical or tricyclic antidepressants and selective serotonin reuptake inhibitors.
Hormone therapy: A person's progesterone and estrogen levels can drop drastically after childbirth. A doctor may prescribe hormone therapy to help the person's body regulate hormone levels to manage PPD.
Cognitive Behavioral Therapy: Several studies have observed CBT as an effective treatment in combination with medication to manage and treat PPD.
At-home remedies: Sometimes, treating perinatal depression involves using natural remedies and lifestyle, including exercise, yoga, mindfulness, and eating a healthy diet.
It is essential to remember that a person with perinatal depression must consult a professional to determine the best course of action to manage and treat the disorder.
Your Role in Helping Patients Suffering From Postpartum Depression
Depression in any form can be dangerous for the person suffering from it and the people around them. Taking PPD lightly and failing to seek adequate treatment for it can worsen the condition, leading to the possibility of severe PPD and PPD psychosis. As a nurse, you are the healthcare professional well-positioned to help a mother with PPD. Patient education is a crucial task you can handle. If you come across a patient with perinatal depression, you must remember that patient education is a significant task you must handle. Understanding the condition puts you in a better position to educate patients and their families about PPD and the importance of taking it seriously.
Patient education about PPD and other health conditions goes hand-in-hand with your own education. As a nurse, you are required to complete a certain number of credit hours through nursing continuing education courses for your recertification. Between your busy schedule and demanding profession, online nursing CEUs offer you the best chance to complete the necessary credit hours. Additionally, the right nursing continuing education courses can help you expand your skills and progress your career.
The online nursing CEUs offered at Fast CE For Less at https://fastceforless.com/ce-courses-for-nursing/ can help you find the courses aligning with your career goals that are also convenient for your schedule and easily affordable for you.