Do you love working in a high-paced, high demand environment? If so, you should consider being an Emergency Room (ER) nurse. Nurses in this field are front line healthcare professionals who have skills and education that far exceed the basics, and they often provide life-saving treatments and interventions to critical patients with little or no known health history. They have an innate ability to remain quick on their feet, and work well under pressure.
Being an ER nurse can also be financially lucrative. The Bureau of Labor Statistics estimates that registered nurses across all specialties earn a median annual salary of $77,600, however, ER nurses earn an average of $93,400 per year, with the top nurse professionals earning well over $124,000 annually.
Today's post will discuss key details of emergency room nursing.
Responsibilities of Emergency Room Nurses
Emergency Room nurses deal with several challenging situations each shift, and no two shifts are the same. As an ER nurse, you must be prepared to care for every patient that arrives to the emergency department, regardless of the severity of their health condition. You will also be expected to take on several responsibilities which may change during your work shift, such as:
Administering medications, starting IVs, taking blood samples, and performing electrocardiograms
Assist in emergency intubation of critically ill patients
Assisting in minor procedures such as reducing bone dislocations, or major procedures such as resuscitation during emergency thoracotomies
Interpret laboratory findings and electrocardiograms
Maintaining patient records
Stabilizing patients coming into the ER
Transferring patients to assigned hospital beds
Qualities of Successful Emergency Room Nurses
Staying calm and composed under immense pressure is critical to pursuing emergency room nursing. ER nurses must also possess several other qualities to become successful in this field, including:
A commitment to continuous learning
Being quick on their feet in a fast-paced environment
Empathy and compassion
Excellent communication skills
Emergency Room nurses often deal with situations where they must make quick but important patient care decisions with little information. A nurse with a thirst for knowledge will be better equipped to deal with new and complex situations in the Emergency Room environement. Remaining calm under high-pressure during intense situations and showing confidence, even when uncertain, can help you handle situations better. Behavior is contagious; your calming effect during a crisis will help others remain calm, and it will assist you in making mindful decisions while caring for your patient.
How Do You Become an Emergency Room Nurse?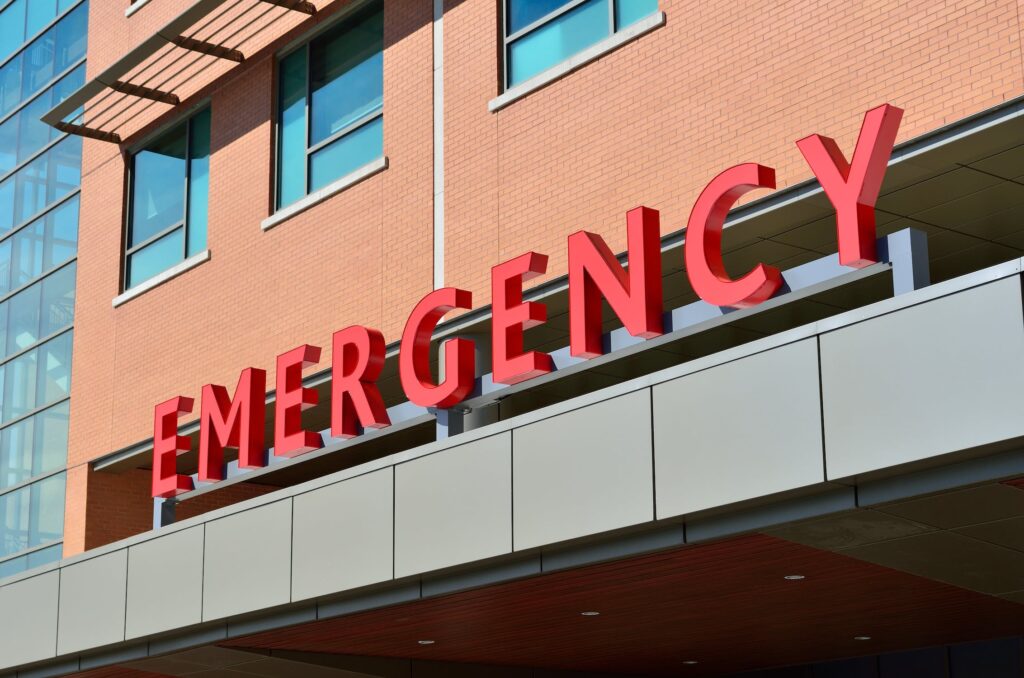 Becoming a registered nurse is the first step to becoming an ER nurse. First, you must obtain a Bachelor of Science in Nursing or an Associate Degree in Nursing. Once you've obtained your degree in nursing, you must pass the National Council Licensure Examination (NCLEX) to become a fully licensed registered nurse. Depending on the Emergency Department, a nurse can be hired as a new-graduate and receive an orientation and extended preceptorship in emergency nursing, or a seasoned nurse can transfer to the Emergency Department to receive training in caring for patients in the emergency setting. A nurse can also find opportunities to work as an ER nurse by working in a float pool in their hospital. These nurses typically float between the Emergency Department and Intensive Care Unit.
An ER nurse can also become a certified emergency nurse (CEN); a certification that is earned by ER nurses who are able to show increased knowledge, expertise, and work performance in the emergency setting.
Are You Committed to Life-Long Learning?
Having a thirst for knowledge is a critical quality of all successful nurses. Pursuing nursing continuing education courses is not only necessary for your nurse license renewal, it can also help you expand your skill set to advance your emergency room nursing career. Taking on online nursing CEUs like the ones we offer at Fast CE For Less at https://fastceforless.com/ce-courses-for-nursing/ can help you achieve that goal, putting you in a better position to save lives and make a positive impact on your community.