It is no secret that nurses are on their feet for hours at a time. Considering the nature of nursing, being on your feet and moving around all day demands having an excellent pair of shoes. The right footwear can make a massive difference to your comfort and ability to provide excellent patient care.
Today's guide will discuss the importance of good footwear for nurses and what you should look for while shoe shopping to identify the best pick for your needs.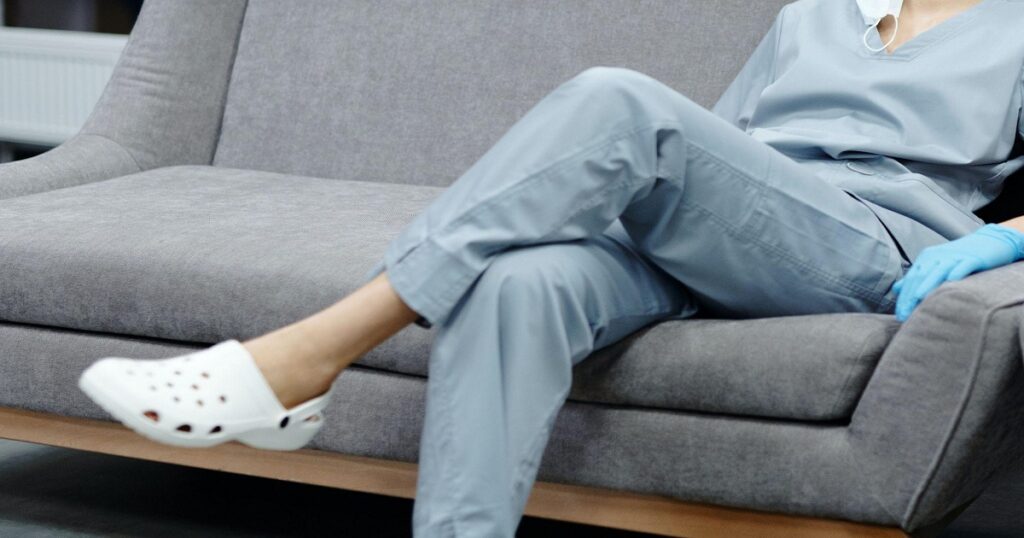 The Importance of High-Quality Footwear
As a nurse, you deal with plenty of stress. Yet, one of the biggest concerns many nurses experience is sore feet. Wearing comfortable shoes designed to help you stay comfortable while on your feet lfor extended periods of time is essential. Not only do they make your shifts easier, but they also protect your feet from painful blisters, and help you perform better. This section of the guide will briefly cover the benefits of wearing the right shoes as a nurse:
Protection from chronic foot pain
Reduced backaches
Improved posture
Increased work productivity
Factors to Consider When Choosing Shoes as a Nurse
Without the right footwear, your long days at work can wreak havoc on your feet, back, knees, and hips. Wearing the wrong shoes is your worst enemy as a nurse. Shoes come in all shapes and sizes. When looking for the best shoes for healthcare workers, you should consider several factors, including:
The best fit
When selecting footwear, your priority should be comfort over everything else. Granted, you can find good-looking shoes, but your focus should be on the right fit. The shoe size should be snug, without being restricting or allowing slippage at the heal. The shoes should also provide adequate arch support.
The right kind of sole
Hospitals and other clinical settings routinely clean floors to reduce germs and infection transmission, and as such, often have wet floors. Although signs are placed when a floor is wet, it is in the nurse's best interest to consider purchasing shoes with non-skid soles to reduce the risk of slipping and falling.
Adequate shock absorption
Shock absorption is a critical quality in good shoes for healthcare workers. If the sole does not offer enough support while enhancing functionality, getting through a long shift can be very painful.
Spacious toe box
Because you are on your feet for long periods of time, you should ensure your toes have adequate space. This is especially important true for nurses who experience for minor swelling feet swelling.
Arch support
Shoes with a padded instep or arch support should be considered, especially when purchasing in orthopedic shoes. The degree of arch support depends on the height of your arches. If you prefer using padded insteps to offer arch support, you must choose those based on the shape of your feet.
Easy-to-clean design
As a nurse, finding the time to clean your shoes elaborately is not a luxury you have. Shoes with an easy-to-clean design will allow you to remain presentable while reducing germ transmission.
Educating yourself on the best practices to follow as a nurse is essential to performing at your best. Besides wearing the right footwear, you must be equipped with the latest updates in healthcare practices to ensure positive patient outcomes. As a nurse, you must also renew your credentials every two to three years, depending on your state. Nursing continuing education courses are a critical part of the renewal process.
If you are short on time and need affordable and convenient nursing continuing education courses, we can help. Online nursing CEUs like those offered by Fast CE For Less at www.fastceforless.com are an excellent solution for you to consider.