As a practicing nurse, you are the primary point of contact responsible for delivering patient care. Besides being pivotal in offering medical intervention, patient education is a crucial part of your role as a nurse. Because patients and their families interact with nurses more often than any other healthcare professional, you must be well-equipped to highlight and discourage harmful lifestyle choices to positively impact your patients.
E-cigarettes and vaping are major contributors to growing health problems nationwide. Popularly hailed as a safer alternative to cigarettes and even touted as a way to help people quit smoking, e-cigarettes pose more of a threat than many people realize. While e-cigarettes might be less detrimental than smoking, they are not the "healthy alternate" they are marketed to be.
Today's post will help you fully understand the health risks of e-cigarettes, who is most at risk, and the benefits of quitting e-cigarettes and smoking. We will also discuss healthy, effective, and practical alternatives to e-cigarettes for patients who mistakenly rely on these devices to quit smoking.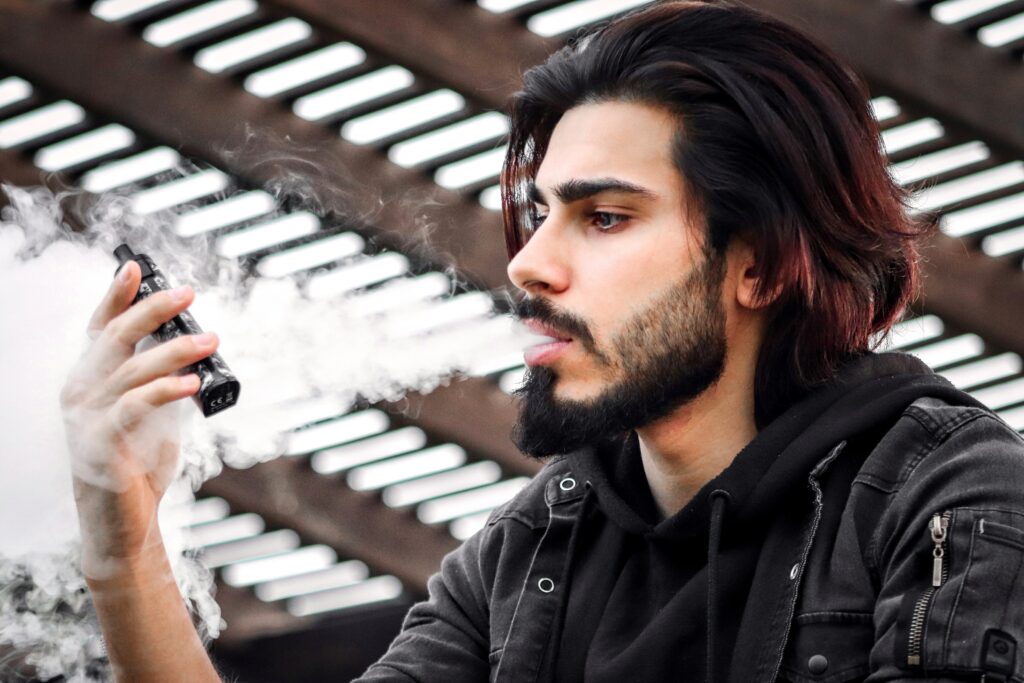 The Health Risks of E-Cigarettes
E-cigarettes, vapes, and other forms of devices are still relatively new, in comparison to traditional cigarettes. With many different types of devices being sold and various chemicals being used in them, conducting extensive research into the health risks of e-cigarettes is complicated. However, the scientific and medical community has identified several long-term health issues using these devices can pose, including:
Severe coughing, trouble breathing, and chest pain
Increased risk of contracting various lung diseases
Nausea, vomiting, diarrhea
Mouth and gum diseases
Greater likelihood of developing heart issues and worsening existing cardiovascular problems
Additionally, most e-cigarette products contain nicotine, which is an addictive chemical also found in traditional cigarettes. Prolonged nicotine exposure is linked with slowed brain development in adolescent and young adults, adding brain damage to the potential health risks of e-cigarettes.
The E-Cigarette Industry and the Youth
The world is becoming increasingly aware of harmful lifestyle habits and their health risks, and worldwide, youth have started seeking healthier lifestyle habits. Unfortunately, the global tobacco industry has used the youth's drive to live healthier lives by marketing e-cigarettes and vaping as "healthier" alternatives to smoking.
Marketing for e-cigarettes effectively targets two distinct consumer groups: committed smokers, and younger social smokers and nonsmokers. Since marketing efforts have made these devices appear to be less harmful or completely safe to use, many active smokers who want to quit have started using e-cigarettes as a method to quit smoking. For those curious about smoking but would normally avoid it, the tobacco industry's success in creating this false impression has led to many nonsmokers and social smokers taking up e-cigarettes and vaping as well.
The tobacco industry has been successful in its goal to increase e-cigarette use over the last few years. The total revenue generated by e-cigarette sales worldwide stood at $7.76 billion in 2014. By the end of 2022, the annual revenue increased to a massive $22.82 billion. Between 2023 and 2027, e-cigarette revenue is projected to grow by 3.34% annually to hit $28.18 billion.
Effective Methods for Quitting Smoking and E-Cigarettes
For people relying on e-cigarettes and other vaping devices to quit smoking, educating them on better, safer, and more effective methods to quit is essential. Typically, there are several ways to quit smoking.
Going "cold turkey" is widely regarded as the most effective method to quitting smoking or e-cigarettes. Cold turkey quitting refers to the act of stopping smoking or e-cigarettes altogether. This is a tough method for the person quitting because it abruptly stops the nicotine their bodies crave. While all methods to quit smoking e-cigarettes require immense willpower, going cold turkey has to be the toughest test of their will.
An alternative can be to gradually decrease the number of cigarettes smoked or the amount of e-cigarette vapor consumed. Tapering off smoking and e-cigarette use can gradually decrease the amount of nicotine the bodies crave. This process can be long, tedious, and stressful. Many people using this method tend to quit and relapse several times before successfully ridding themselves of the habit.
Specialized counseling methods from therapists or other healthcare professionals can discourage smoking and e-cigarette use by providing information about the health risks of e-cigarettes and smoking. A popular method used is called the "5 A's Method for Treating Tobacco Use and Dependence," comprising of:
Ask about tobacco use. Identify and document tobacco use status for every patient at every visit.
Advise to quit. In a clear, strong, and personalized manner urge every tobacco user to quit.
Assess willingness to make a quit attempt. Is the tobacco user willing to make a quit attempt at this time?
Assist in quit attempt. For the patient willing to make a quit attempt, offer medication and provide or refer for counseling or additional treatment to help the patient quit. For patients unwilling to quit at the time, provide interventions designed to increase future quit attempts.
Arrange follow-up. For the patient willing to make a quit attempt, arrange for follow-up contacts, beginning within the first week after the quit date. For patients unwilling to make a quit attempt at the time, address tobacco dependence and willingness to quit at the next clinic visit.
The Health Benefits of Quitting E-Cigarettes & Smoking
Like quitting any addictive substance, quitting e-cigarettes and smoking may come with withdrawal symptoms. Being mentally prepared to face withdrawal symptoms is a prerequisite when someone wants to quit these habits. Most people should expect to experience a few withdrawal symptoms, including headaches, anxiety, irritability, and mood swings. It is essential to relay that the withdrawal symptoms might be difficult to face, but they will pass in a short time and make way for several health benefits of quitting e-cigarettes, including:
Improvement in blood circulation
Significantly better and increased lung capacity
Increased sense of taste and smell
Decreased risk of cardiovascular problems and stroke
The possibility of cancer goes down substantially
Better fitness, mood, and overall health
Your Role as a Nurse in Addressing E-Cigarette-Related Health Problems
As with any avoidable health issue, prevention is always the best cure. Without understanding the realities of these harmful lifestyle habits, people will continue to fall prey to the predatory tobacco industry's false advertisements. Educating your patients to separate fact from fiction about smoking and e-cigarettes and offering viable and healthy methods to quit these habits is crucial to addressing the growing health concern.
Just as patient education is an important part of your nursing career, completing nursing continuing education courses is critical to securing your recertifications and expanding your skills. Online nursing CEUs like those available at Fast CE For Less at https://fastceforless.com/ce-courses-for-nursing/ are affordable, convenient, and impactful. Explore the courses there if the time has come to complete nursing continuing education courses to get your license renewed.