Imagine yourself unwinding from a tough day at work, sitting in the massage chair at a local salon, and getting a pedicure. You're fully relaxed and are enjoying getting pampered, and a small nick by the nail technician near your toenail happens. Since the pain is temporary, you carry on without worrying about the professional using chemicals around it. Only days later, you find your newly pedicured toe has a horrible infection.
It is essential to understand the risks in nail salons people can face. Unfortunately, not many people are aware of nail salon risks. Most nail salons are small businesses employing nail technicians who should be qualified to ensure the highest safety standards. However, that is not necessarily the case. When a salon does not adhere to high safety standards or contract certified professionals, it can expose salon-goers to a host of severe risks. Today's post will discuss the risks in nail salons you can face to help you understand how to enjoy a safer experience.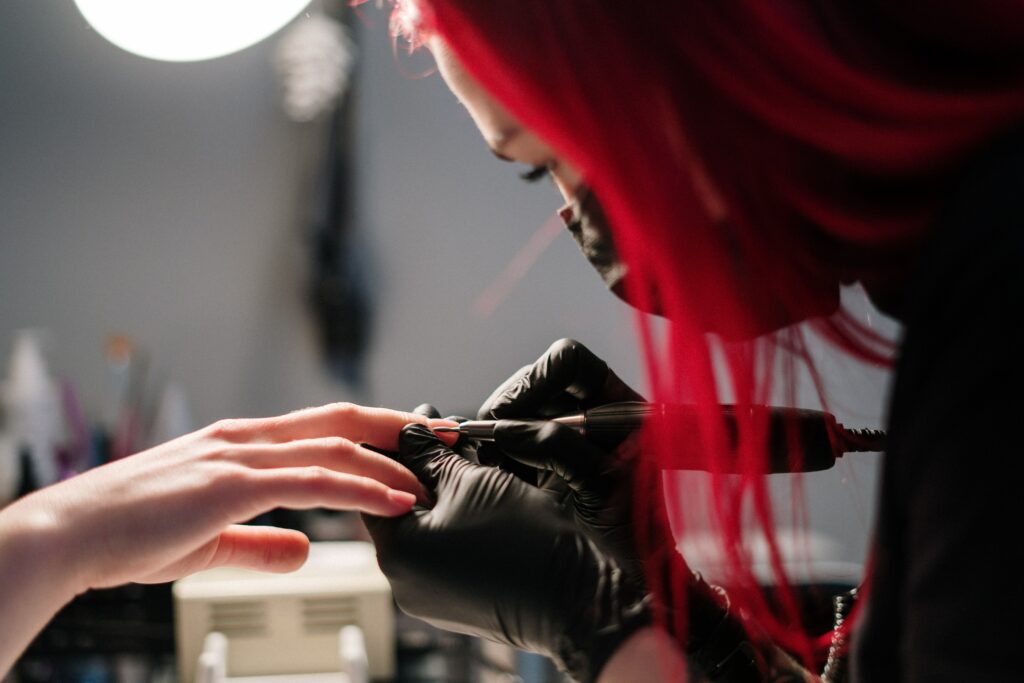 Main Health Risks at Nail Salons
The industry must revamp the standards at nail salons to minimize risks to patrons. Unless they meet better standards, salon-goers are exposed to several health risks, including:
Nail fold infection: Skin lesions can happen when a technician is rough on your nails during pedicures and manicures. These lesions can lead to severe infections in the hard skin around the nails.
Follicular infection: Follicular infections are also common in salons that don't follow safety standards. Caused by bacterial infections through the water in pedicure foot baths, the follicles can become infected.
Contact dermatitis: The products nail technicians use in salons can harm technicians and patrons alike. Nail glue, polish, and acrylic nails can lead to allergic reactions called contact dermatitis.
Warts: Skin lesions caused by injuries during manicures and pedicures can also lead to a person developing plantar warts.
Paronychia: A nail infection that occurs from bacteria entering broken skin near the nail fold or cuticle. The infection is characterized by swelling, tenderness, and pain around the nail. The skin in that area can become warm to the touch and develop a red color. Underneath the skin, an abscess can form, containing yellow or white pus.
Preventing the Health Risks in Nail Salons
These infections and health risks can happen if the nail technician is not a certified and licensed professional adhering to high safety standards. From cross-infection caused by the used of unclean tools to being unnecessarily rough while using nail equipment, unqualified professionals can expose patrons to these health risks. Even if the professional is licensed, the salon itself might not be following adequate safety standards.
When going to a salon, you must do your due diligence to ensure that it's safe to get your nails done at the establishment. Here are the top things to look for in regard to cleanliness:
Are the workstations clean? Are the nail technicians disinfecting the stations when they finish working with other clients?
Do the professionals wash their hands and ask you to wash yours before they begin treatment?
Do they properly sterilize and disinfect their tools?
Do the nail technicians have a license and certificate to practice?
At a nail salon, you must never hesitate to ask the establishment for its safety standards and credentials for its professionals. If the salon or technician does not give you proper answers, you go to another place. As a nurse, you can be better equipped to understand whether the salon adheres to good safety standards due to your education and training. Nursing continuing education courses like the Infection Control and Barrier Precautions course offered by Fast CE For Less at www.fastceforless.com can be an excellent way to learn more about proper precautions while advancing your career as a nurse.