While people typically associate hair loss with men from male pattern baldness, hair loss is also quite common in women. There are several reasons women can experience hair loss, from high stress levels to hormonal changes and medical conditions. As a nurse, it's essential for you to understand the possible reasons for it, how to treat it when possible, and help cope with hair loss when it is permanent.
What Exactly is Female Alopecia?
The term "alopecia" effectively refers to hair loss, female alopecia refers to hair loss that women experience. While not considered as common in females, hair loss occurs quite often in women from various reasons.
Causes of Female Alopecia
Several reasons can lead to hair loss in women, including:
Medical treatments, such as chemotherapy
Genetics
Hormonal changes like pregnancy and menopause
Underlying medical conditions like hyperthyroidism, ringworm, celiac disease, Hashimoto disease, Hodgkin's disease, etc
Emotional and physical stress
Nutritional deficiencies
Symptoms of Female Alopecia
Depending on the root cause of the problem, female alopecia can materialize differently and with various symptoms. If you notice gradual thinning in your hair or sudden hair loss, tracking any symptoms or changes you have noticed can help. Some of the hair loss symptoms of alopecia can show up in the form of:
Complete loss of hair: A complete loss of hair can occur due to some medical conditions, particularly treatments like chemotherapy for cancer patients.
Bald spots: Bald spots on the scalp appear in patches or circles, with the possibility of feeling pain or itchiness in the region before hair loss occurs.
Overall thinning: A gradual thinning of hair can occur over time. While men also face this issue, their hairlines typically recede. For women, it is an overall loss of hair spread evenly throughout the top of the scalp.
Handfuls of hair: Sudden hair loss may occur due to various reasons when washing or brushing hair.
Other Symptoms of Female Alopecia
If there's an underlying condition causing female alopecia, women can experience a range of other symptoms that can indicate the root cause.
If it happens due to hypothyroidism, women experiencing hair loss can also gain weight and experience muscular weakness and swollen joints.
If it happens due to ringworms, women with female alopecia may also find painful gray or red patches on their scalps.
When celiac disease is the underlying cause of hair loss, women can also experience headaches, anemia, skin rashes, and mouth ulcers.
Hair loss can also happen due to Hodgkin's disease, characterized by other symptoms like night sweats, swollen lymph nodes, and fever.
Through the symptoms beyond hair loss, medical professionals can better identify the root cause of female alopecia to determine how to help women deal with the issue.
Dealing With Female Alopecia
Based on the underlying cause of female alopecia, hair loss in women may be treatable or permanent.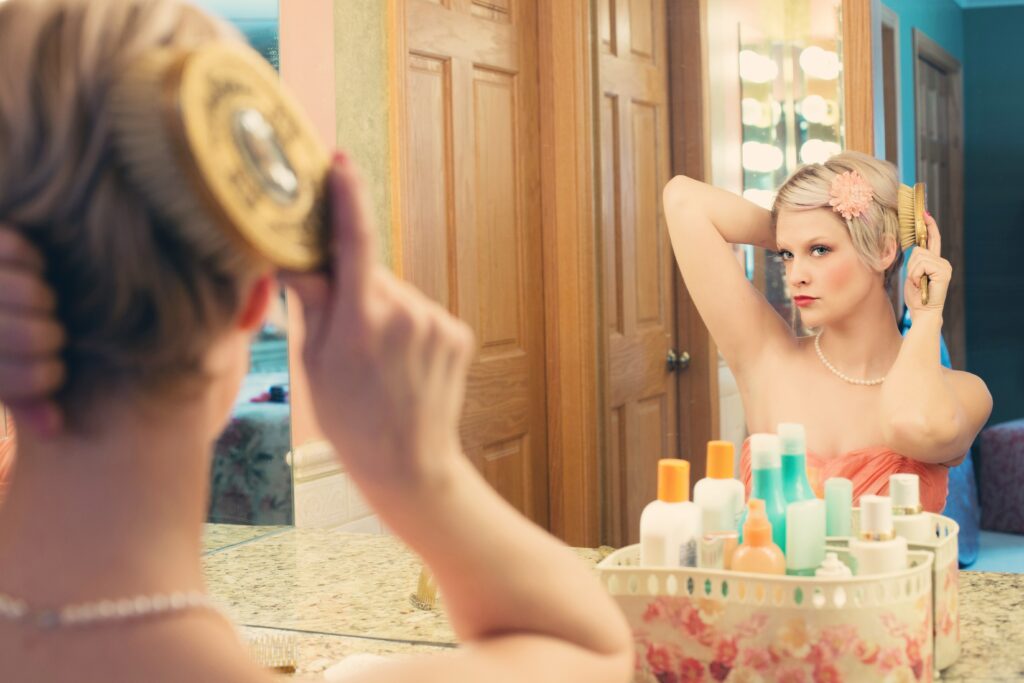 Treating Hair Loss in Women
For female alopecia caused by hormonal changes or stress, women typically don't need treatment because the hair loss will likely stop by itself once the body readjusts. With nutrient deficiencies, the right supplements can be enough to rectify the issue. Addressing medical conditions can also help women deal with hair loss.
There are several forms of treatment to treat hair loss in women, including:
Hair transplant surgery
Estrogen therapy
OTC drugs for topical use
Coping With Hair Loss
Since many women consider their hair an important part of their identity, hair loss can impact their confidence. It can be difficult to deal with hair loss, and the woman experiencing it may develop signs of depression and self-esteem issues. Some coping mechanisms of women who are dealing with hair loss include:
Styling natural hair to disguise the patchy areas
Wearing strategically-placed hats or headscarves
Covering it up with wigs
Seek external help through support groups to deal with the emotional impact of hair loss
As a nurse, educating your patients on the various health conditions they may experience and helping them manage the conditions is an essential part of your job. Another critical part of your role is to continue learning to expand your skill set through nursing continuing education courses. Not only are nursing continuing education courses necessary to renew your license, they also help you become better equipped to help your patients.
If your time to renew your license is close, online nursing CEUs like those available at Fast CE For Less at www.fastceforless.com offer an affordable, convenient, and easy solution!